About Us
At Starfish Lane we understand invitation stationery. We invite you to swing by and browse our beautiful store or if that's not possible our well-presented website.
We are a family run business, with over 20 years experience in the industry. Take the journey with us as we show you how easy the invitation process really is. Our excellent team of in-house consultants and qualified graphic designers are here to assist you.
Specializing in customized wedding and event invitations and stationery, hand-illustrated designs, paper layered creations and more.
We also offer an in-house Print Studio service, you bring your own beautiful designs to us, and we professionally print them onto our luxurious quality cardstock.
Above all, we offer personal service, attention to detail, knowledge and an extensive range of paper and envelopes. Starfish Lane is here to guide you through the creative process and bring your ideas to life!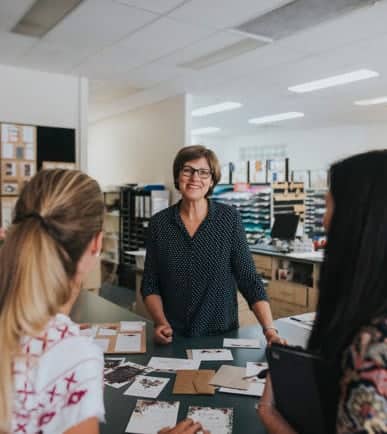 Frequently Asked Questions
At Starfish Lane, we can help you to create the perfect stationery package, tailor-made to your particular special occasion and to your individual requirements. Read through our Frequently Asked Questions below to find out more about our Do it Yourself (DIY), Helping Hand and Made By Starfish Lane options.
Simply choose your design and email us with a quantity to place the order. On placement of your order, we require your wording, this can be done via email at northperth@starfishlane.com.au. We will email a digital proof to you within 1 working day.
Please note that due to the quick turnaround time only 1 change to the wording can be made. The turnaround time is 3 working days but can extend to 5 working days due to delays in communication from you.
This range has been designed for those who have left their Invitation's to the last minute! We have Birthday, Wedding, Wedding Anniversary, Engagement, Christening, Hen's Night, Baby Shower and Kitchen Tea invitations. The range offers a 3 working day turnaround time from the date your order is placed with your wording. To be able to deliver on our word, no changes can be made… the design you see is what you get, we only change the wording.
Absolutely! This option is for our clients who love to DIY!    We stock the biggest range of stunning quality paper, card and envelopes in Perth.  We know our papers and can recommend what we know will work.  We are experts in making up a sample Invitation, showing you the layering, measurements, cutting and assembly techniques we have developed over the years.    All this in about 10 min with our free expertise!
To Make your Own Invitations you will need to be computer savvy with setting up your wording. We recommend doing this on Publisher or Word. A good quality home printer – either inkjet or laser – for you to print your Invitation Stationery.   Alternatively, you can do the setup of your wording on Word/Publisher and email the PDF for us to do the printing.  We both sell and hire paper trimmers.
Yes, we do.  We stock a fantastic range of paper, envelopes and embellishments as well as offering hundreds of design ideas.
Our experienced Design Consultants will help you with a design, measurements and cutting instructions.  We will help you work out how much paper and related products you'll need, in the most economical way.
You would need access to a printer, be confident with setting up the design on your software at home as well as cutting and assembling your own stationery.
We always recommend the use of a good quality paper-trimmer to trim your paper to size rather than scissors! For your convenience, we sell or hire trimmers in store and can easily advise you of the best option for your needs. We can even give you a quick demonstration of how to get the best results from your equipment.
"At Starfish Lane, we will help you to create the perfect stationery package! Tailor-made to your particular special occasion and to your individual requirements."