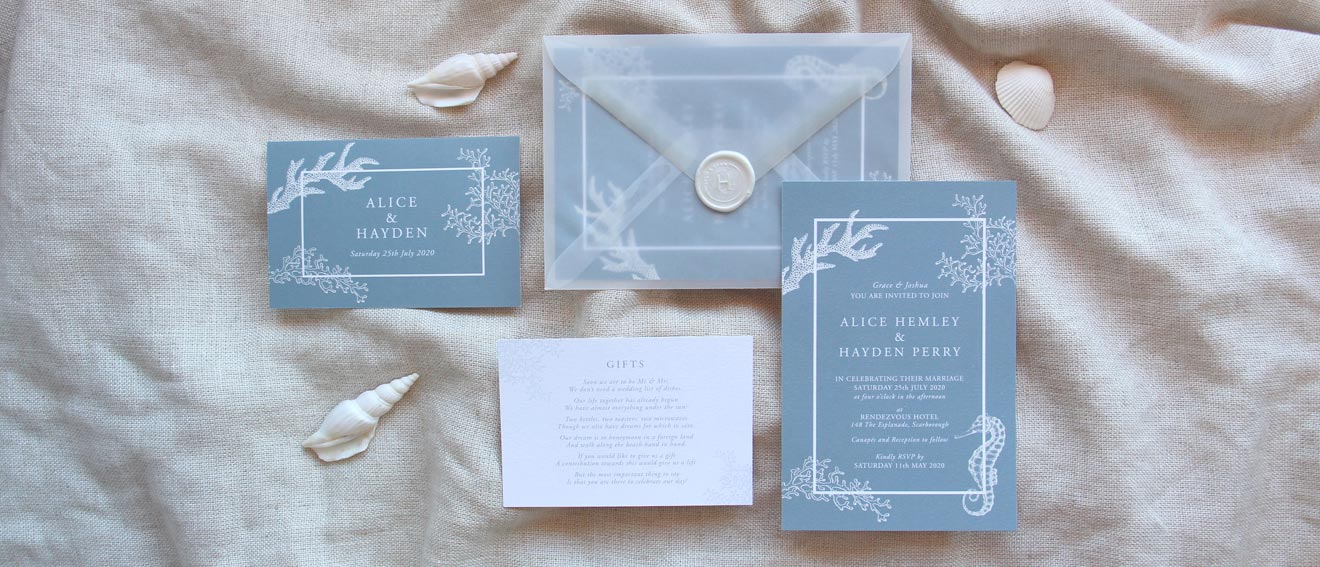 What do I need to place my stationery order?
So you're ready to place your order for your Wedding Stationery, but you're asking yourself "What do I need to place my stationery order?". At Starfish Lane, we've broken down exactly what we need to know when you come in to place your order.
Quantity
What stationery items do you require?
Price Range
Style
Quantity
How many invitations do you require? Remember to consider singles, couples and families in your count. To elaborate, a family of 5 may require only 1 invitation, just as a couple would only require 1, so remember to factor this into your count.  For example, 60 Invitations would equate to approximately 120 guests.
We always recommend to our customers to add approximately 5-10 extra invitations onto your count as spares just in case you need them. There are many cases where someone may not be able to attend and therefore you may like to send out an extra invitation to someone else who can. Or for any last minute invitations you may have forgotten, they do happen! Ordering a few extra now will save you both time and money, than if you were to need a second print run. In saying that, we can absolutely provide reprints in a timely manner should you need them.
Remember to also make sure you have one for yourselves to keep! It's a lovely reminder of your special day and something you can show your children and even your grandchildren one day.
What Stationery Items do you require?
Another thing to consider when it comes to your Wedding Stationery is what items you require. At Starfish Lane, we offer the full suite should you need it, but everything is customisable to your needs. So for example some couples may only need an Invitation and Details Card whilst others require the full suite from Save The Dates, through to Invitations, Gifts Cards and RSVP Cards.
There are many factors to consider that you will help you make this decision – Is it an overseas Wedding where guests must travel and book flights and accommodation? Then a Save The Date is highly recommended to give your guests plenty of notice. How would you like your guests to confirm their attendance? If you'd prefer confirmation via email, phone or website you may not need a separate RSVP card to be posted back to you.
At Starfish Lane, we have 20+ years of experience and our staff would be more than happy to guide you through this process.
Price Range
At Starfish Lane we work with our couples to provide a service which meets their vision within the price point that they are comfortable with. We recommend considering the general price point you'd like to spend even prior to quoting. Would you like to spend $100, $500, $1000 or more?
At Starfish Lane we understand that every couple and their needs are unique, so if you already have an idea on what you'd like to spend, we will work with you with this in mind to help achieve your stationery dreams!
Style
Let us start off by easing your mind if you're not sure what style stationery you're after – initially almost all of our customers don't! If you aren't sure what direction you'd like to go in, here's a few things to consider that may help guide you –
Is it a casual or formal affair?
Do you have a colour scheme or theme?
Your venue – Is it in a regal heritage building or a family farm?
We recommend browsing our Exclusive Wedding Invitation Collection to give you some inspiration! Available to view online or in-store. Alternatively you may like to explore sites like Pinterest for ideas on themes and colour palettes. We love it when our couples come in with a Pinterest board of inspo!
And if you're still lost, we're here to help! Our team of experienced Design Consultants can make recommendations and provide advice to help make the process an easy and exciting one.