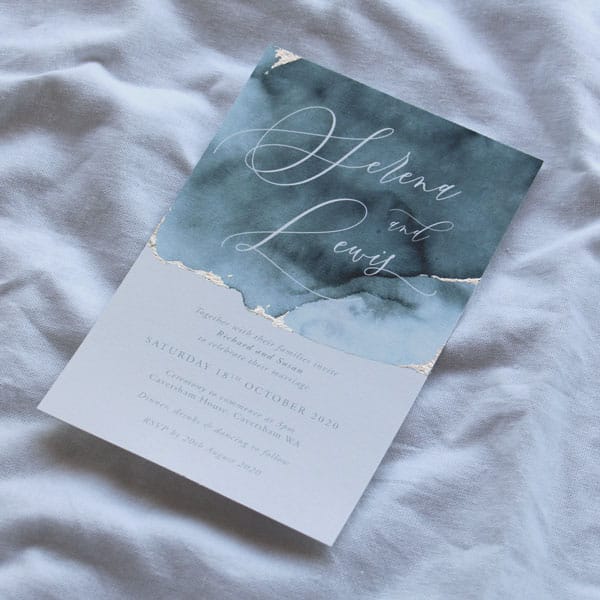 Wedding Stationery Timeline
If you're a bride or groom to be, it's normal to feel a little overwhelmed at the beginning of your planning journey. At Starfish Lane, we're the Wedding Invitation Specialists! We're here to break down the Wedding Stationery timeline to give you an easy step by step guide that will leave you feeling like a Wedding planning pro.
Now, there is no single answer to "When should I order my Wedding Invitations?" that will apply in every single situation, however we can provide an overall guide to this question. In this blog post, we answer some of the specific questions we frequently get asked and provide a guided timeline for your Wedding Stationery.

Save The Date | 8-12+ months
Save the Dates are a simplified invitation informing your guests of your wedding date and location, so that they have plenty of time to clear their calendar. They are sent out well before your invitations, and are especially important if you have a destination wedding or have overseas or interstate guests that may need to book flights or accommodation.
When to Give Guests Extra Time
Weekday Weddings
People may need to book annual leave so it's important to give them plenty of time.
Holiday Weddings
We all often go away during the holidays, so it's important to let your guests know so they hold off on booking that Hawaiian holiday until after your special day!
Destination Weddings
Guests may need to apply for annual leave and book flights/accommodation which needs to be done well in advance.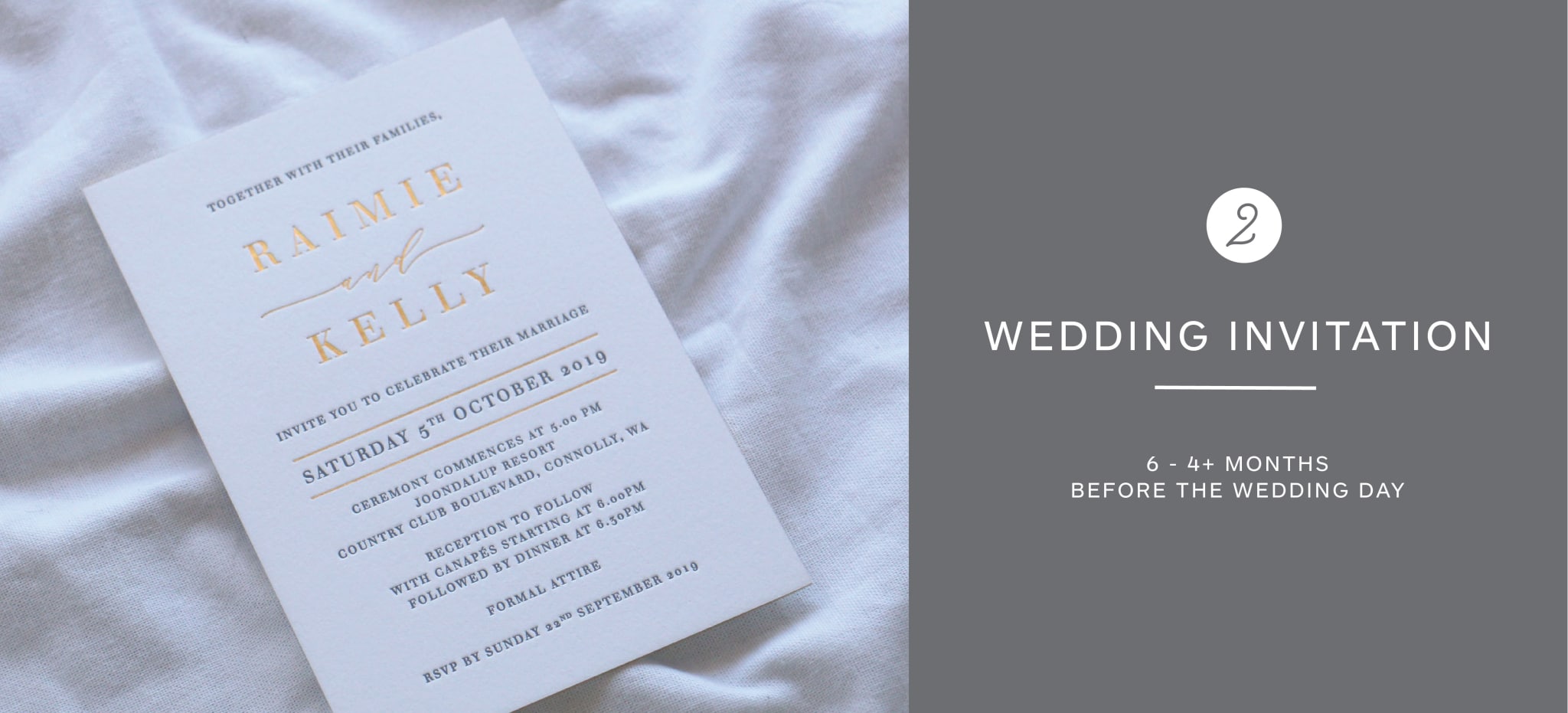 Wedding Invitation | 4-6+ months
Your Wedding Invitations help set the tone for what your guests can expect on your big day, and should be sent out atleast 6-8 months prior. If you've already sent out Save The Dates, you could leave this a little closer to the date.
Remember to allow enough time for the design and printing process, address gathering, and also mailing out to your guests. At Starfish Lane, our turnaround time varies from approximately 14 – 21 working days depending on your design. For those guests who live interstate or overseas, it could take up to a few weeks for their invitation to arrive, so remember to factor this in.
View our Wedding Invitation Suites here.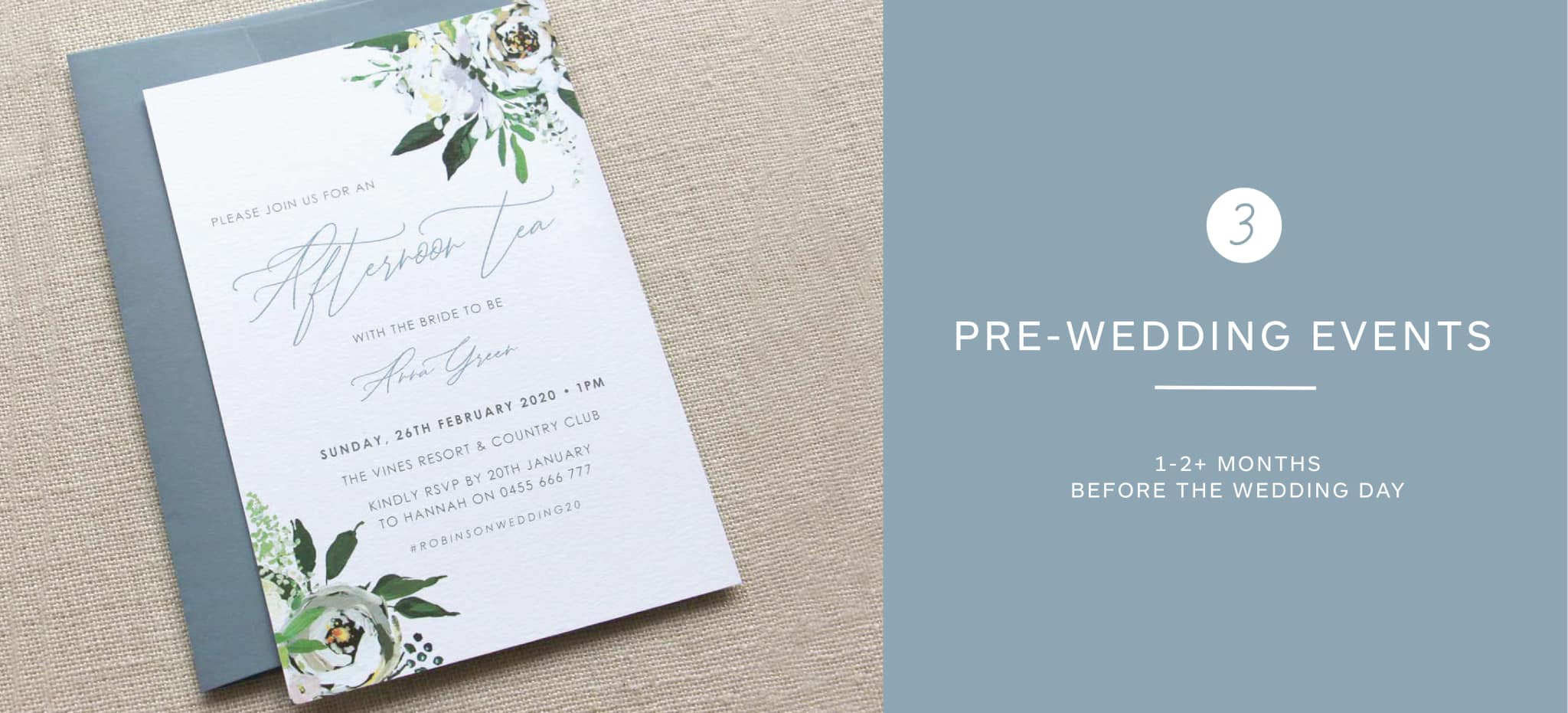 Pre-wedding Event Stationery | 1-2+ months
We're talking Bridal Shower, Hens Night, Bucks Night, Couple Shower, Kitchen Tea or however you plan to celebrate! These events can be just as memorable as the wedding itself! Ensure to order your invitations for these events atleast 1 month before you plan on sending them out, to allow for production, printing and postage if necessary. Your guests should have atleast 1 month notice from the time they receive your invitation.
View our Bridal Shower Invitations here.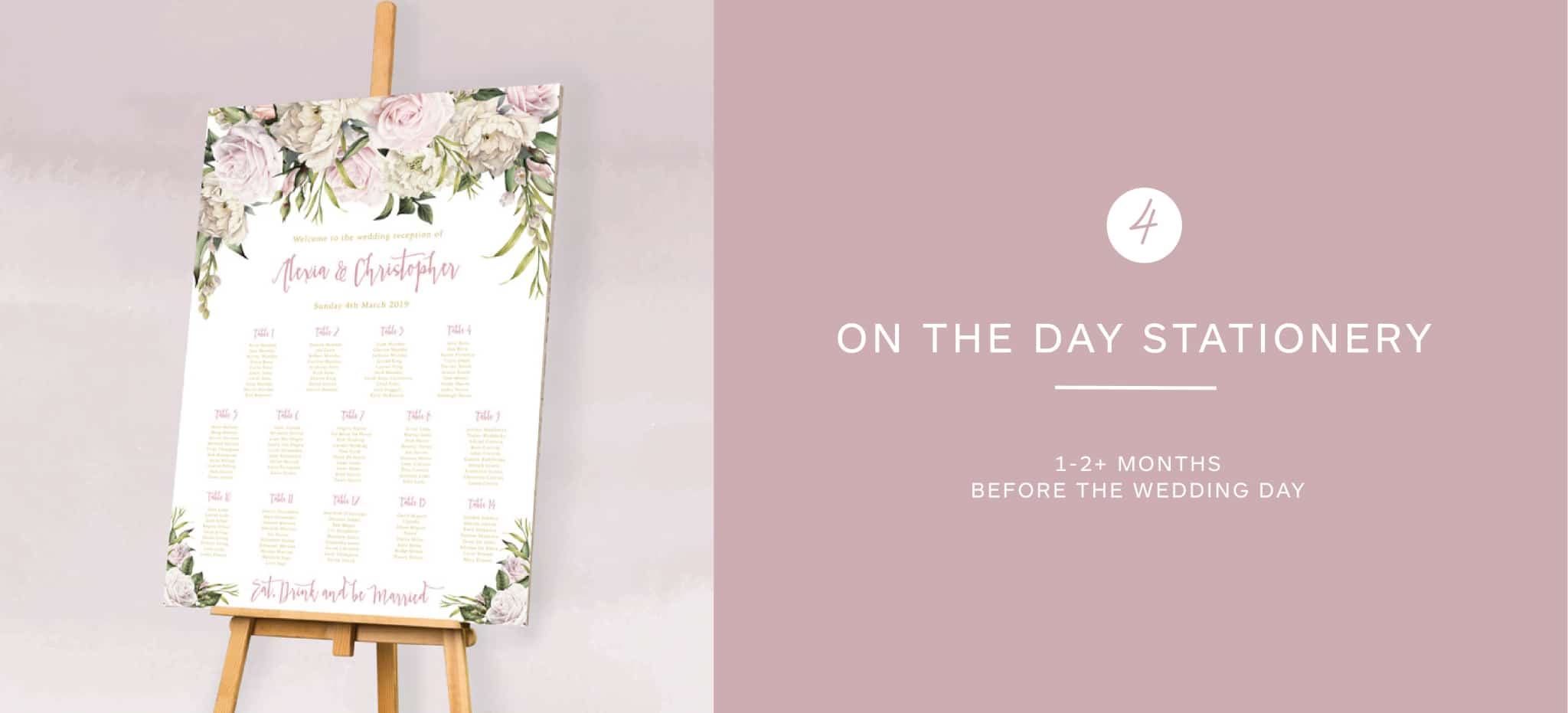 On the Day Stationery | 1-2+ months
Your Reception Stationery plays a huge role in the style and aesthetic of your big day. In fact, it becomes part of your decor adding layers and colour to the space. Think Menus, Placecards, Table Numbers, Signs, Table Seating Plans, Welcome Signs, and Ceremony Programs.
Reception Stationery should be ordered approximately 1-2 months prior to your Wedding Day once you have confirmed your guestlist. It's important to note that you want to set your RSVP date about 2+ months prior to your Wedding date. This will allow yourself time to follow up those who haven't got back to you by the deadline, and also then allow enough time for the production of your Reception Stationery. Trust us when we say you will need to follow people up to confirm their attendance, so make sure to allow time for this.
View our On the Day Stationery here.
Thank you Cards | Within 3 months
Here at Starfish Lane we encourage our customers to order their Thank you Cards prior to their Wedding, so they're ready to go when you need them. Once the rush and excitement of the Wedding is over, sometimes the last thing you want to do is more Wedding planning and purchases. We recommend ordering your Thank you Cards at either the stage of ordering your Reception Stationery or earlier when ordering your Invitations. This way your stationer can have everything ready at the same time following your theme, cardstock and colours throughout.
This is also helpful as you can start to fill each card out as gifts arrive whilst your memory of their special gift is still fresh in your mind.
View our Thank you Card Stationery here.